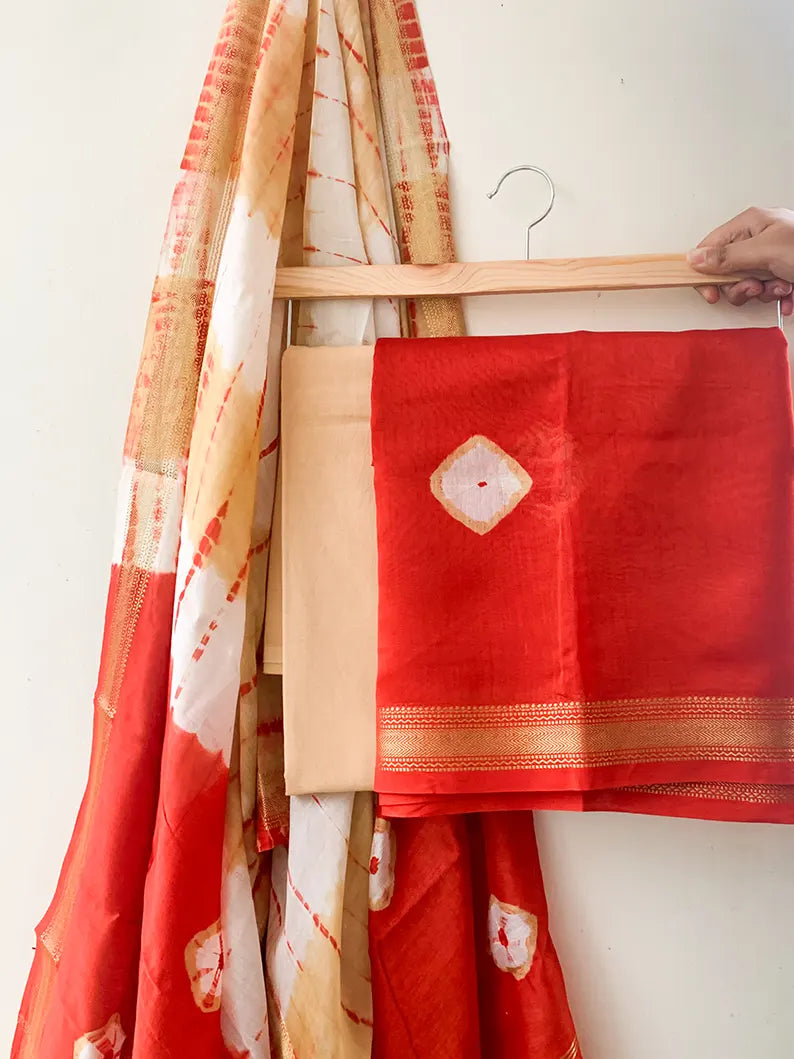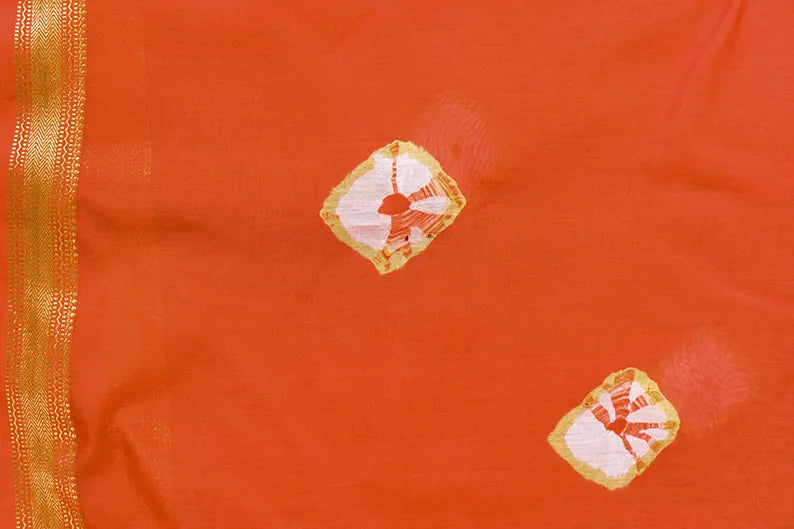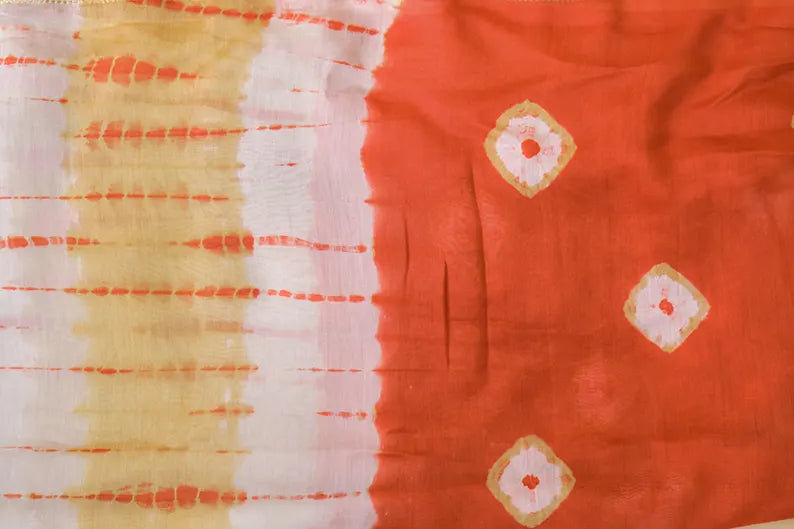 Bright Orange - Maheshwari Silk Cotton Hand Block Print Unstitched Suit Set
Translation missing: en.products.product.price.regular_price
Rs. 5,698.00
Translation missing: en.products.product.price.sale_price
Rs. 5,698.00
Translation missing: en.products.product.price.regular_price
Rs. 7,598.00
Tax included.
Captivating sunset, casting a fiery glow that drenches the world in a cascade of oranges. This is the heart of our Bright Orange. Meticulously crafted from the finest Maheshwari silk, this unstitched suit embodies the fiery zest of a sunset, beautifully blending comfort, luxury, and an electrifying energy. The fabric radiates with a soft glow, akin to the fleeting moment when the sun kisses the horizon goodbye, inviting you to indulge in its warmth and smooth texture. It's more than a textile—it's a sensory journey that delights the touch and mesmerizes the eyes. 
Adorning this radiant canvas are delicate white spots, meticulously block-printed by our artisans. Each dot is a star twinkling against the orange twilight, creating a playful and chic visual contrast that elevates the aesthetic appeal of the suit set. The Bright Orange is not just a suit—it's an artist's canvas. As an unstitched piece, it gives you the creative freedom to fashion your personal masterpiece, whether it be a sleek straight suit or a flowing Anarkali. Your creative touch becomes the couturier, bringing the Bright Orange to life in a way that's uniquely yours. Embracing the Bright Orange is a joyous celebration of your individuality, your vibrant spirit, and your unique taste. It's a dynamic dance of tradition and personal style, making every occasion a radiant celebration of self-expression.

Details

Fabric: Cotton Silk with Maheshwari border
Length: 250cm
Color: Orange
Quantity: 3
Disclaimer:
1. Please keep in mind that this product is hand-block printed by Indian artisans. There may be little imperfections and unevenness in colour and print, proclaiming it to be entirely handmade. 
2. The images are clicked in daylight. The colour of the actual product may vary slightly from the image due to the screen brightness.
3. Color bleeding is normal for hand-block printed products and will stop after a few washes.
Estimated Delivery:Dec 10 - Dec 14

Free Shipping: On all orders.
Bright Orange - Maheshwari Silk Cotton Hand Block Print Unstitched Suit Set
Super Pleased!
"We are so pleased to receive our first box of order, and amazingly, the saree looks so pretty. I can't wait for the next delivery."
Nice Designs
"They have a good variety of traditional and fusion designs. Price and quality are also reasonable. Each time I ordered, they have met quality standards."
Great Packaging
"A truly wonderful experience. I bought it for the first time from you guys, and the product was of excellent quality! Thanks so much, much appreciated! And the item was properly packed."
Wonderful Experience!
"As advertised on their website, the sarees were in satisfactory quality! Simply superb, and I would definitely recommend this brand to my friends and family."
Nice Quality
"The actual product was exactly how it was advertised on the website. However, there was a slight colour difference as they mentioned on the website, no issues with payments and delivery."
Great Service
"Appreciate the patience and great customer service!! Overall my experience at Moora was nothing but, in short was, amazing."
Worth my money!
"I have bought both Chanderi & Mulmul Cotton Saree from this website. I find the range stylish and valuable for money. I really like their designs and would love to shop more from them."
Amazing Support
"Moora team members are very cooperative. They value their customers. I am pleased to buy three sarees from them. They reached me on time."