Blog
Why Mulmul Cotton Sarees are the Perfect Summer Wardrobe Addition
by Tribe Moora on Jun 27, 2023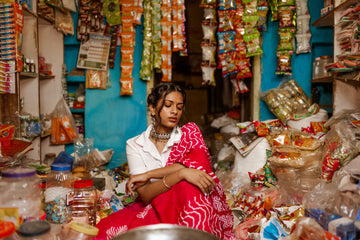 Summer is around the corner, and it's time to revamp your wardrobe with some breezy and comfortable outfits. And what could be better than a Mulmul cotton saree? This lightweight fabric has been creating quite a buzz in the fashion world lately, thanks to its soft texture, easy-to-drape quality, and elegant appeal. From casual outings to formal events, these sarees are versatile enough to make heads turn wherever you go. But that's not all - there are several other reasons why Mulmul cotton sarees should be your go-to outfit this summer season. So sit back and read on as we explore the benefits of this fabric and how you can style it effortlessly!
What is Mulmul Cotton?
Mulmul cotton, also known as muslin cotton, is a fine and lightweight fabric that has been around for centuries. It originated in the Indian subcontinent but soon became popular all over the world due to its softness and breathability. The word "mulmul" itself comes from the Persian language, meaning "cotton wool," which accurately describes its texture.

This fabric is made from unbleached or bleached cotton fibers that are spun into thin yarns and woven loosely to create a sheer but durable cloth. Mulmul cotton sarees have become increasingly popular among fashion enthusiasts because of their comfort quotient and stylish appeal.

The best part about mulmul cotton is that it can be dyed easily in various colors without losing its natural sheen. This makes it perfect for creating vibrant prints and patterns that catch the eye immediately.

In recent times, Mulmul cotton has been used extensively by designers worldwide to create comfortable yet chic clothing items like dresses, skirts, tops, kurtas etc., apart from traditional sarees. So if you're looking for a fabric that's both timeless and trendy at the same time - mulmul cotton should definitely be on your list!
The benefits of Mulmul Cotton
Mulmul cotton is a lightweight and breathable fabric that is perfect for hot summer days. This type of cotton has been used in India for centuries, thanks to its many benefits. One of the main advantages of mulmul cotton is its softness - it's incredibly comfortable against the skin.

Another benefit of mulmul cotton is its versatility. It can be dyed in any color or printed with any pattern, making it an excellent choice for clothing and accessories. Mulmul sarees are particularly popular because they're so easy to wear - they drape beautifully and don't weigh you down like heavier fabrics.

Mulmul cotton also has great moisture-wicking properties, which means it can absorb sweat from your body and keep you feeling cool all day long. Plus, this fabric is very durable and machine-washable, making it a low-maintenance option. One of the best things about mulmul cotton is that it's sustainable. Cotton production can be environmentally damaging if not done correctly, but mulmul uses organic farming practices that are much less harmful to the planet.

There are plenty of reasons why you should consider adding some mulmul cotton pieces to your wardrobe this summer!
Why Mulmul Cotton Sarees are the perfect summer wardrobe addition
Mulmul Cotton is a soft and lightweight fabric that is perfect for the summer season. It has been used in India for centuries to create beautiful sarees that are both comfortable and elegant. The cotton fibers used in Mulmul Cotton are incredibly fine, giving it a luxurious feel while still being breathable.

One of the benefits of Mulmul Cotton Sarees is their versatility. They can be dressed up or down depending on the occasion and personal style, making them a great addition to any summer wardrobe. Whether you're attending a wedding or simply running errands, there's always a way to wear a Mulmul Cotton Saree.

Another benefit of this fabric is its ability to keep you cool during hot weather conditions. Unlike synthetic fabrics that trap heat, cotton allows air to circulate around your body, keeping you feeling fresh and comfortable all day long.

Styling a Mulmul Cotton Saree can be done in endless ways - add some statement jewelry pieces or opt for minimalistic accessories; choose bold prints or solid colors; experiment with different draping styles - there's no limit!

Buying Mulmul Cotton Sarees supports local artisans who have been weaving these gorgeous fabrics by hand for generations. It promotes sustainability as they use natural dyes and organic materials which do not harm the environment.

Investing in one (or more) Mulmul Cotton Sarees will definitely enhance your summer wardrobe game!
How to style a Mulmul Cotton Saree
When it comes to styling a Mulmul Cotton Saree, the options are endless. You can go traditional or modern depending on your preference and occasion.

For a classic look, opt for a plain white or pastel-colored saree with minimal embroidery. Pair it with simple silver jewelry and juttis for an elegant touch.

If you want to add some drama to your outfit, choose a brightly colored saree with bold prints. Accessorize it with chunky bangles and statement earrings.

To give your Mulmul Cotton Saree a contemporary twist, experiment with different draping styles like the dhoti style or trouser saree. Don't be afraid to mix and match fabrics and patterns!

When wearing a Mulmul Cotton Saree in summer, keep the makeup light and natural. Opt for nude lipsticks and subtle eye shadow shades that complement your outfit.

Remember, confidence is key when it comes to carrying off any outfit! So wear your Mulmul Cotton Sarees with grace and elegance, no matter what style you choose!
Where to buy Mulmul Cotton Sarees
Searching for the perfect Mulmul Cotton Saree can be a daunting task. You want to make sure that you are getting the best quality and style, while also ensuring that the price is reasonable. Thankfully, there are many options available when it comes to purchasing Mulmul Cotton Sarees.

Check out your local marketplaces and boutiques. These stores often carry a variety of sarees in different materials including cotton. It's always great to support local businesses and find unique designs that aren't available elsewhere.

If you prefer shopping online, there are several e-commerce websites where you can purchase authentic Mulmul Cotton Sarees from trusted sellers. Look for websites with customer reviews and ratings so you know what to expect in terms of quality and delivery time.

Another option is to explore social media platforms such as Instagram or Facebook where independent designers showcase their collections. This way you can directly connect with them if you have any questions about sizing or customization options.

Consider reaching out to friends or family members who may have purchased Mulmul Cotton Sarees before - they could provide recommendations on where they found theirs!

Finding the perfect place to buy your ideal Mulmul Cotton Saree will depend on personal preference and accessibility but exploring various avenues will help ensure a successful search!
Conclusion
Mulmul cotton sarees are a must-have addition to your summer wardrobe. The lightweight and breathable fabric make it comfortable to wear even in hot and humid weather. Not only that, but its versatility also allows for various styling options whether you're going for a casual or formal look.

With the benefits of Mulmul cotton mentioned earlier in this article, it's no wonder why it has become increasingly popular among fashion enthusiasts. It's not just about style either; by choosing cotton sarees over synthetic ones, you contribute positively to the environment as well.

So go ahead and invest in some beautiful Mulmul cotton sarees today! Whether you choose to shop online or at your local market, make sure to keep an eye out for authentic quality pieces that will last you many summers to come. 
FAQs
Are cotton sarees easy to wear?
Yes, cotton sarees are relatively easy to wear and drape, making them a popular choice.
Can cotton sarees be worn for special occasions?
Yes, there are many elegant and embellished cotton sarees available that can be worn for special occasions.
Are cotton sarees available in different colors and designs?
Yes, cotton sarees come in a wide range of colors, prints, and designs, catering to diverse preferences.
Are cotton sarees affordable?
Cotton sarees are generally affordable compared to silk or designer sarees, making them a budget-friendly option.
Can cotton sarees be customized or tailored?
Yes, cotton sarees can be customized or tailored according to specific requirements or measurements.